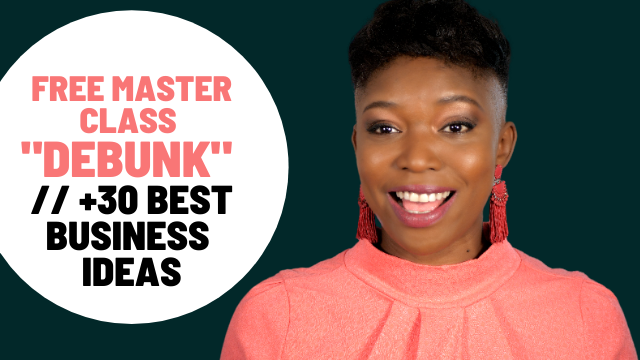 Do you want to start a business or are you looking for Best Business Ideas to start? Join my FREE Master Class to become ready to be an Entrepreneur.
Debunk these crucial 9 issues and you can start!
In this Master Class, we would look through over a dozen emotional issues that actually hold millions of aspiring Entrepreneurs back from starting off with their dream ideas. As a coach and a serial business owner, I know that sometimes, finding the right business ideas that would work for you might be very challenging. That is why,  I have listed over 30 Best Business Ideas in this FREE Master Class. These are ideas that I really recommend anyone on the African continent to venture into now before it is too late. Read my blog to learn more about  how to find a great business ideas.
Learn how to find low capital Best Business Ideas for Africa
Sharing these ideas is something that I am so passionate about, because we literally have so much opportunities in front of us. You might be wondering if this is true. Where are the opportunities? Here they are packaged within this online class. I carefully looked into the African market and have handpicked 35 business opportunities in different industries because I know that the demand will grow and there is still so much space to make profits. This Master Class is divided into 3 sessions. During every session I share some of the business ideas.
For anyone who completes this class, reach out to me please on Instagram, YouTube and Facebook. Those are the platforms I am active on. Click the platform links to find my profile. Connect as I look forward to helping you further your entrepreneurship journey. Already ready and want to draft our your business strategy? Here is a current blog on designing your business plan