Our Social cause – Fashion out Trafficking!
Human trafficking is a crime that shames us all. Trafficking in human being is considered the 3rd most lucrative illegal business worldwide and it is a crime that affects every country in the world, either it may be the country where the victims come from or the country they are transported through or the end destination where they are exploited like in the case of Germany, Austria and many western European countries.
Most of these victims end up as sex slaves or in other forms of slavery. 1200 people identified as Africans dies through the medetterianean route to Europe in 2016. It was about the same number in 2015 and in 2017 it is already over 800 people. Read more statistics from the mission migrants project >
How can we prevent this crime from continually repeating itself in the next couple of decades? How can we reduce human trafficking from Africa to Europe? If you would like to know more or educate your peers about this issue, please organise an awareness event and visit our awareness page to invite our CEO to talk about it.

Before you read further, please read this paragraph to understand the core idea behind our business approach. Africa has been totally excluded in Europe fashion retail and on the other side thousands of Africans tend to migrate consistently to Europe in search of employment. European Fashion production has been focused towards Asia due to better infrastructure, lobby and long years of know-how experience. A large number of everyday fashion products are made in Asia for Europe and after either being shortly used or in some cases over produced, they end up creating a huge dump in Africa (Especially West Africa). As a result of these very cheap huge amount  of second-hand clothes, thousands of tailors, designers, manufacturers have no chance to compete with their handmade products. While Europe works to control its consumption, we aim to create inclusion for independent African producers.
Africa supplies Europe, amongst other continents, a great portion of natural resources like crude oil, petroleum and gas as well as Agricultural products. A combination of oil-focused governance and low expertise in the manufacturing of other consumer goods like in the Textile industry (which is very man-power driven) has led to the exclusion of Africans in the global apparel industry. The top exports products of Nigeria are Crude Petroleum, Petroleum Gas, Refined Petroleum, Cocoa Beans and Rough Wood. We strongly believe that developing and building up a  textile manufacturing landscape ein Africa, powered by min and low enterprises, would create thousands of job for youths in the future. Considering the population of Nigeria with over 180 million people, also considering that over 80% on migrants going through the desert to Europe come from Nigeria and that Nigeria is my country of origin, our company has dedicated its focus to start off with Nigeria and gradually integrate neighbouring west African countries.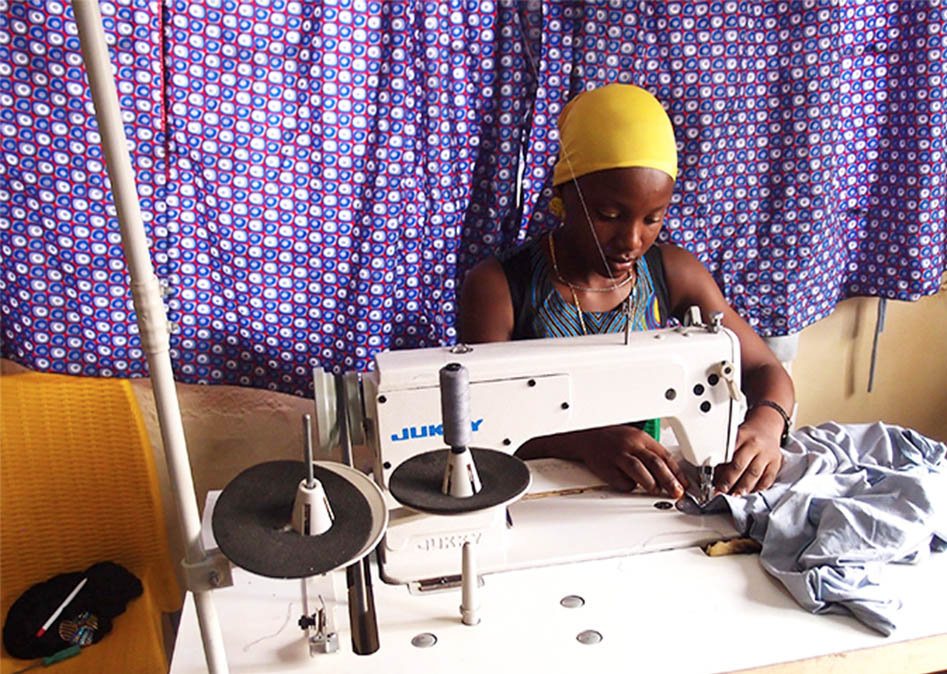 Our economic goal – Generating sustainable income for our producers.
Our major goal is to expand the selling opportunities for African producers in Europe and therefore generate sustainable income for them. Our vision is to grow a landscape of sustainable African producers who can become competitive in the global marketplace. 
Our solution – inclusion of grassroots entrepreneurs in global trade!
To be able to create a fair global structure, we must create inclusion for African middle and lower class. Direct inclusion, reducing every form of institutionalized bureaucracy that does not yield results for the vulnerable groups. Whilst governmental authorities on both ends – Europe and Africa,  are trying to reform their partnership, we invite consumers, trade platforms, retailers to join us to create more opportunities for these enthusiastic African entrepreneurs and help us include them into the Global fashion retail structure. Directly as possible (Direct trade) – We believe that there would be more left for the makers if they can get their products directly as possible to the clients. Now read on to understand how we work, our sustainability, our structure, our mission, the vision and our transparency policy.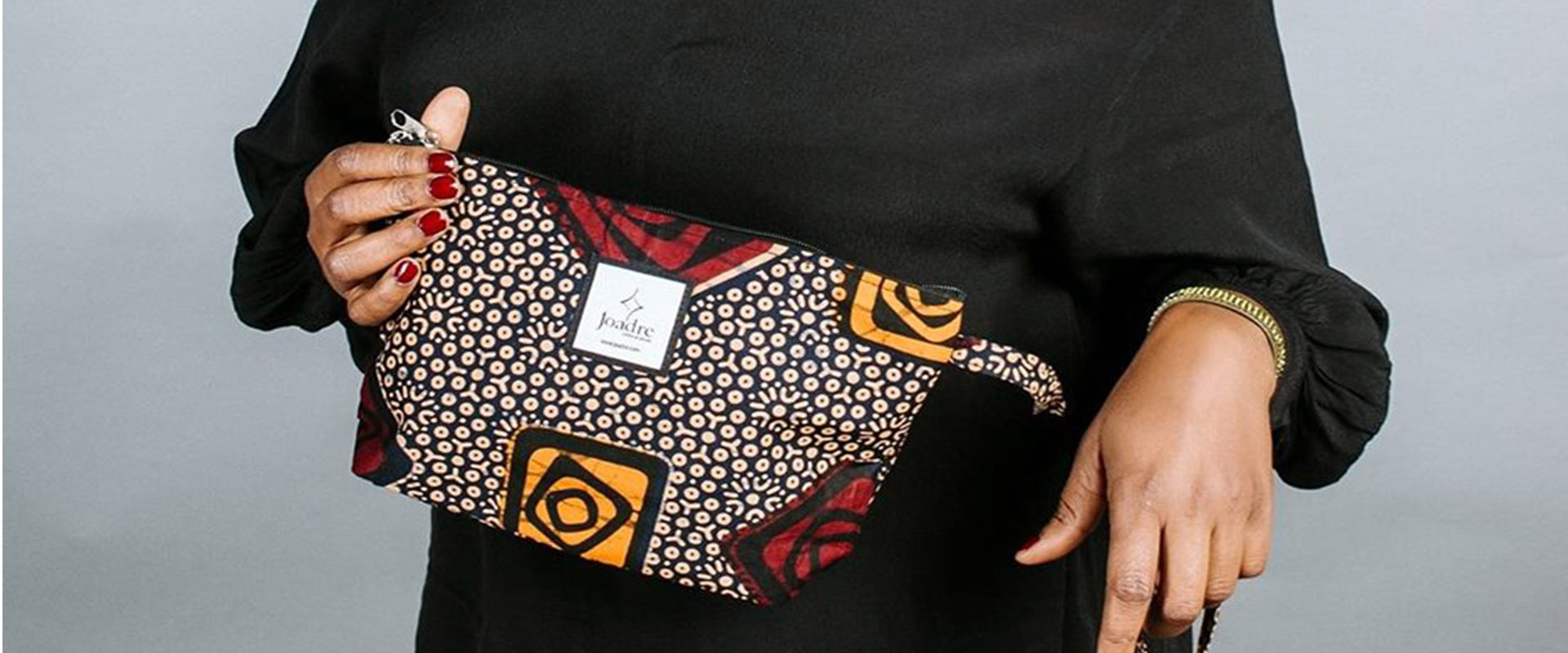 Grass root approach with our in-house label "Joadre"
Joadre was founded by our CEO Joana Adesuwa Reiterer as our in-house label specialising in pullstring bags. We have shortly added a new line which is our organic batik coats. Joadre infuses the vibrant African lifestyle translated by intense colors and patterns into European street style fashion. Our major goal is to create a sustainable income for the tailors producing our in-house products and help them develop their skills to become competitive in the field of manufacturing. For our Joadre in-house products, the tailors earn between 25 – 45% of the final product net cost. The rest amount covers the cost of production (running cost, material cost, promotion and logistics) and sales tax in Europe which is approximately 20% of the gross end price.
In Nigeria, the minimum income is approximately 45,-€ per month. We are very convinced that no one can live dignified with this amount, even in the cheapest part of Nigeria, even if they did not have to pay a full rent for a room, even if they have no children to send to school. So we create products that can enable the makers earn a minimum of trice that wage monthly. Our approved minimum wage is 140,-€ monthly for beginning tailors in training and that are single without children. We work with them to create a production plan that will allow them earn that amount. We have seen that Tailors can earn even much more by sewing just 20 Joadre bags in a month, but we try to delegate the work in a way that even more tailors will earn our approved minimum wage instead of one tailor earning a whole lot more per month. This is a simple process that we continue to build on.
Mid to Bottom approach integrating designers and existing producers:
Our producers are very small enterprises, some are a one-man production units, and averagely a 3 to 5 people unit. They work according to the cash flow available to them and do not have the resources to get the classic sustainability certifications that is demanded at the global market place. Nevertheless, even more so do we believe it is necessary to create inclusion for them. What we offer through our platform is a direct communication access to the producers on our platform using our shopping app chat function. Using HubCouture as a platform to integrate existing producers in Africa to the global market, we have been able to liaise and enlighten dozens of producers in Nigeria about the need to build their business within a sustainable framework. HubCouture renders services to these producers in order to help them generate competitive selling products for the European market. We have over 200 registered producers and more on our waiting list.
Currently the prices you see on our platform are the prices laid by our producers. We regularly render advice on what the best possible price is. HubCouture earns a 15% commision for sold products for the services we render producers which includes the following but is not restricted to this:  consultancy for production, raw materials sourcing & stocking, logistic support, storage facility in Lagos and Vienna, showcasing & selling opportunities, training and workshops, setup & promotion, product optimization and technical support such as patterns and design. We also have a special one-on-one coaching service for producers called the 7 weeks creators lab and a product launch loan initiative to aid the release of competitive products. Why the loans? Most producers we have worked with so far do not have the financial capability to stock the raw materials they need nor even develop samples for products they intend to market. We invest in stocking as much raw materials for them as possible to aid their business growth and development. Visit this page to read more about our services > 
Supply chain transparency

Supply chain log of Joadre
We owe our customers information about where the raw materials come from and who make their products. Joadre's major raw materials includes:
African print fabrics made out of cotton, cotton and polyester: Our prints are made in West Africa majorly in Nigeria, ghana and Cote de voir.
Jersey fabric:

We import or jersey fabric as we cannot trace the source of the fabrics and none are produced in the region of our production. Our jersey fabric are organic fabric purchased from suppliers in the Netherland and Germany. Also we gather leftovers of organic jersey fabrics available at our Austrian retailer. As we grow and consume higher volumes, we would be importing directly either from India or South Africa.

Organic cotton batik fabric: Our cotton used for our Batik fabrics is grown and processed in Togo. Delivery of our cotton raw material is managed by Akala Batik, a  female empowerment project in Togo by the Austrian charity "the force". There are two types of Cotton available for purchase in this region, the cheaper version (which the sellers do not claim to be organic) and the  more robust and expensive version (which our partners at the Akala Batik Zentrum confirm to be the organic cotton). Akala Batik purchases the raw cotton fabric from representatives of multiple micro farmers, who confirm that they do not use synthetic chemicals as fertilizer or pesticides.  We solely rely on Akala Batiks competence in this regards. Nevertheless, we require our partners in Togo to confirm  the fabric quality as environmental friendly (organic fabrics and respectful dying process),  which is included in every invoice for every new fabric we purchase. Beneath is the statement included in every invoice; **Aklala Batik du Togo bemerkt in diesem Zusammenhang, dass es keine offiziellen Zertifikate vorliegend gibt. Bei der biologischen Bezeichnung wird auf die Expertise der verkaufenden Instanz, die erkennbare Konsistenz sowie das sicht- und fühlbare Erscheinungsbild vertraut. Die Basisfarbe wird außerdem lediglich mit Wasser, anstatt eines chemischen Zusatzmittels, angerührt. Es können nicht alle Farben biologisch aufgetragen werden. Further more, we choose to use these fabrics as it is a means to generate income for the local farmers and at the same time create raw materials for our partners at the Batik training center in Togo. In the training Center, young women get to learn how to Batik and use this old fabric traditional to become entrepreneurs afterwards. Here is a link to our partners in togo – http://theforce.pink/who-are-we/aklala-batik-2/ and http://theforce.pink/togo/
Some other raw materials like the yarns used to weave our canvas (Aso-oke) are partially imported from turkey and sold by local small traders in the market. These yarns are woven in Nigeria or in Ghana.
Vegetable Leather: Our leather is sourced from Italy from the Jacroki – http://www.smartmaterials.it/eng/  from Okinawa which has a couple of certifications  – http://www.okinawa.it/chisiamo.htm . The leather like material is about 25% of the cellulose used for this material comes from certified forests FSC, following principles of environmental sustainability. The remaining percentage comes from legal forests and plantations.
Supply chain log of other HubCouture producers:
We only work with producers that can account for where they purchase their raw materials. If it is the case that they cannot account for it, we allow them remain in training and aid them to get the best possible sustainable material they can afford. Only after are they allowed to showcase on our platforms. Most of our producers either use fabrics we provide based on the Joadre raw material collection described on the left side, or Rayon fabrics they purchase for outfits. For accessories, maybe use African fabrics as well. We also work with a batik fabric producer and production in Ghana called Della.
The Ghanaian training center "Della" is financed collaboratively by a US based institution and have received a confirmation from the UN women as classified sustainable. Dellas runs a garment production and fabric production base in Volta region of Ghana. For their dyeing process, they use lye (normally used for soap making) and Vat dyes for the batik dyeing. The Vat dyes themselves are relatively non-toxic. The original vat dye, indigo, has been approved in the US for use as a food additive, whether it is synthetic or natural in origin. The batik dyeing process in these west African region is an old tradition which was replaced by influx of mass digital printed fabrics but is slowly being revived now and as a result creating more hand skill opportunities for unemployed individuals.
For bag accessories we mix the cotton with the vegetable leather. For shoes, we use cow leather  mixed with hand woven canvas weaved by local Nigerian weakness. This canvas is still hand woven on 20cm looms in the west of Nigeria by the local weavers who have learned this technique from generation to generation.