Building sustainable economic partnership between Africa and Europe.
Joadre Consulting Group
Why should only large cooperations enjoy the luxury of world-class business consulting? African SMEs are the future. If you are an African SME or an African diaspora, our "Joadre Lab" service is here to support from idea to a successful venture. Are you a European company searching for new markets in Africa? Thousands of African Entrepreneurs are enthusiastic to partner with you. Connect with us to learn more about our "Go Global" service for your firm. We are a social-impact driven consuting firm and we look forward to engaging your team and stakeholders through our "social service".
Learn more >
African SMEs
Transform ideas to wealth!
Joadre Lab is an online business coaching service tailored solely for African SMEs and African Diasporas. With our business management software on our website platform, students of our lab can profit from systematic coaching managed by our team of experts at the backend.
EU Firms
Explore new markets, create social impact!
Go Global program targets European companies who are open to develop a sustainable business activities in West Africa, targeting Nigeria as a starting point. Our program is tailored to suit the needs of individual companies and ranges from market analysis, ressource information, reports, documentation, network building, go-to-market strategy, focus groups and analysis, on-ground logistics, legals and accreditations, match-making for business partners amongst others.
Engage
Engage your team in a global debate. Speaking, workshops, coaching
Social consulting services to build awareness and stakeholders engagement. Services include public speaking and keynote, life workshops, online courses and coaching. Focus topics include female rights, human rights, African development, economic participation in Africa, human trafficking.
Testimonial
Joadre Fashion is now independent!
Our very first in-house investment was the Joadre Fashion, where we coached dozens of west African tailors and fashion producers to become competitive in a global market. We selected 15 students and invested in their businesses. Today, we have a network of over 65 producers in the textile landscape in West Africa. Here is what some of our students and Alumni have to say about our work, our ressource materials, our coaching and more.
The 6 key Workbook changed my life forever and helped my stop the limiting beliefs I had about myself. Reading the book has given a step-by-step guide on how to transform my ideas to reality. The book is my business bible.
Even as a trained tailor in Lagos, I didn't know how to design fashion, draft patterns or run a production. Since I joined Joadre training in 2018, I have learned so many new skills and more.  Its indeed a big privilege for me.
I appreciate that I have been given me the opportunity to discover hidden skills and gain more experience in building my business. My products are now sold in Europe. It is amazing!
The basic knowledge for every entrepreneur.
With the program, our vision is to build the new generation African entrepreneur who is holistic in action to develop a sustainable and profitable business or idea.
Enrol now >
Very often, the challenges in the African environment can prevent you from seeing the diverse opportunities within. You might want to start a business but you have no clue about how to begin to develop the idea. This workbook is here to work you through the process of developing your idea. The workbook is your offline entrepreneurs guide to transform your ideas into a real business, with full contents from our 6 Key foundation milestone online program.   Let us channel your focus to the core vision of your life.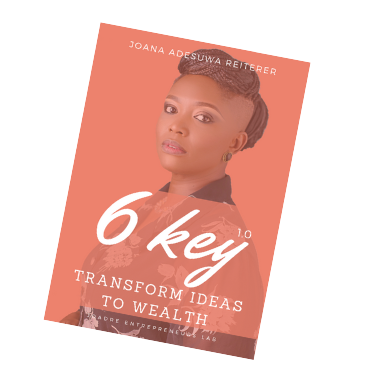 Find more products made by our students
African inspired and sustainable fashion products, ready to be shipped worldwide.