[:en]
Have we been shared equal portion of skills and abilities? Can we choose where and when we are born? If you are saying "no" to these two questions, then please agree with me that soliciting for equal rights is all bullshit! We should be soliciting for more rights for some specific group of people, in other to make them equal as fast as possible.
Its 6pm and I am invited to an event where the main goal is to solicit for equal rights. I would not mention the event as I am fully aware that the organisers meant well and are good intended. But here is my thoughts on the trends of equal rights. How can the solution to issues on gender and migration be solved through creating equal rights for all? Pardon me, but I think this ignorant! If you disagree, I am happy to read your reasons beneath in the comment section, or you can send me an email via network@joadre.com.
Let us focus on migration for a minute, because Gender is for another day. I would totally agree to share equal rights to migrants from Syria and migrants from Germany to Austria, if both migrants where born with the same opportunity, grew up with the same choices, learned the same ethical values within the same cultural space and emigrated also based on the same reason. Actually, lets go deeper. No two individual is born with the same ability, right? In the same class you have fast learners and slower learners. Now pardon me to use the word "slower" in its positive sense, or scrap it. Lets say less faster learners. Now these different students go into the world with these different abilities. So it is very hard to use the term equal when you address both with diverse abilities.
Promoting Equity to get Equality!
Lets adapt the word Equity rights, which simply means providing opportunities to make all equal, NOT giving them equal opportunities. There is a significant difference. Here is a rather deep example into history; descendants of people who have suffered decades of slavery should be given "much more" opportunities to become equal in the society. These opportunities would address every aspect of physical and phycological trauma imposed on them from generation to generation. These opportunities would address economic aspects such as compensations, such as giving back ownership to living descendants. When all such measures have been put in place, then we can talk about making equal right effective.
When I got to Austria, I had the opportunity to further my studies just like any young Austrian student who just completed secondary school. In this area, you could say I had equal rights.  I did not have a financial track record in Austria that would help me secure a student loan. I did not have relatives and parents who could support financially. My network was reduced to minus 2. I could not speak the language. Yes, some of these factors would be true to some Austrian born students as well. Hence no one has equal opportunities! In the first 1 2months, I was occupied with classic migration and integration problems, which I would rather now call "challenges". I spent the first 12 months trying to master these challenges, which means that any Austrian-born student could complete their education faster than I did. They could start working and saving up to a good pension, which seems to be a very clear life mission here!
Most Syrian migrants fled the war. Many German migrants are economic or social migrants, just like many Nigerian migrants as well. But now it gets tricky! It is almost impossible to have a Nigerian economic migrant because he would not get a visa at all for the same motive like the German migrant. So you see, the basis for global interaction is on status quo "non-equality". If we strive more for equity rights, we might finally get to equal rights. Fighting for equity would mean that some people would have to admit that they are privileged. It would mean that some groups would have to admit that their wealth is constructed based on the disadvantages of others. But lets call it a day here and check out what I picked out this week from our sustainable fashion and accessories online. Remember to share your comments and thoughts, questions and take on my article.
Hand crafted batik shopper with crushed blue patterns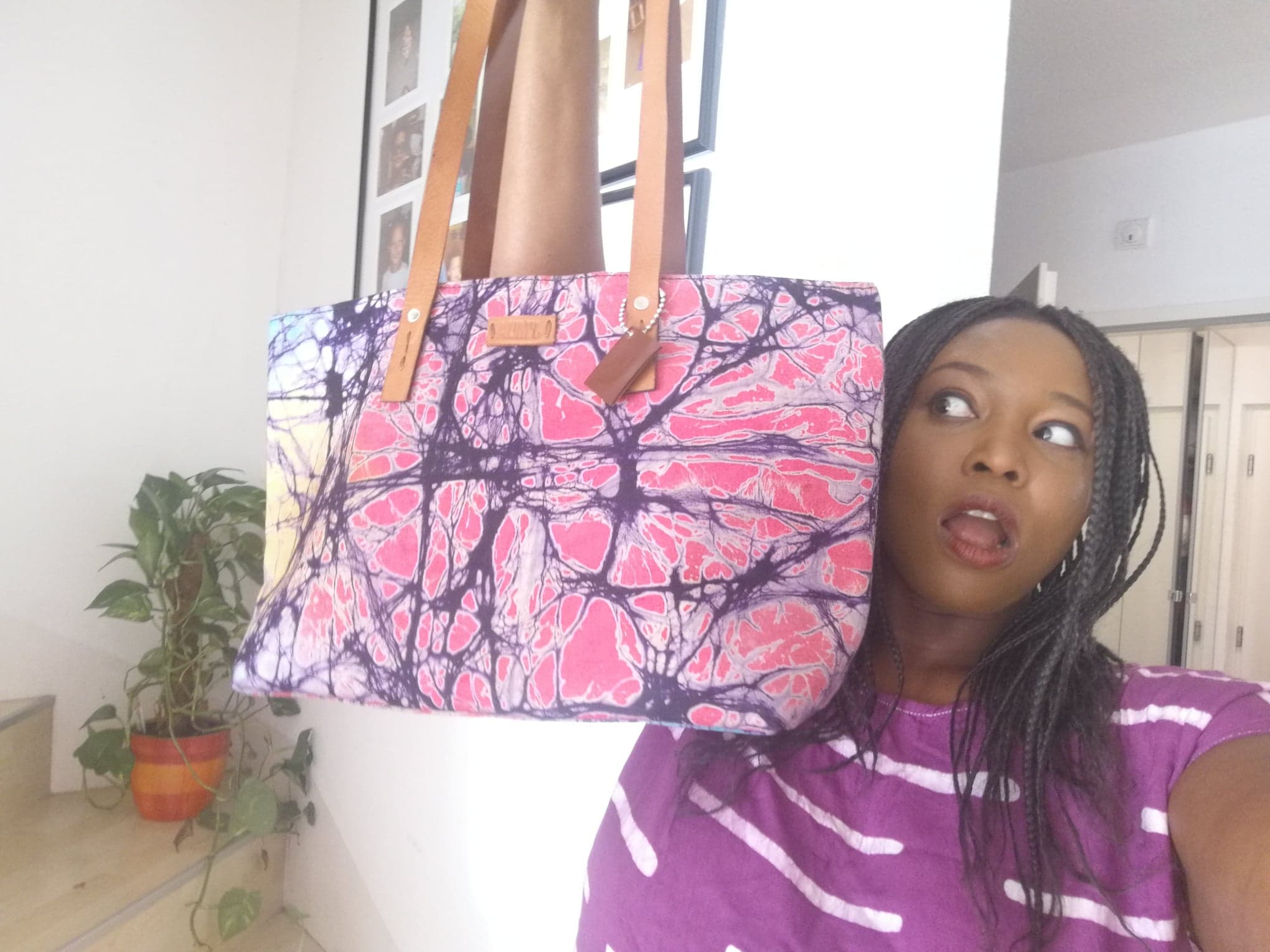 I cannot lie, that these colours are so beautiful and intensive. I practically wake up every morning into my atelier to see the colors of this bag. It spices up my mood and I keep it right in front of my work table for more inspiration. It is a classic shopper bag we designed with Ayoola from Jmuacouture. Here is a little insight in the development of this bag. We started our training program about 3 year sago and decided that any tailor or producer who could come up with their own design and production plan, are allowed to create products under their own brand name.
Ayoola, is one of such producers who enthusiastically worked so hard to realise this bag design. We currently have just 3 pieces in stock, but more are in the production now being made. If you want this bag or know someone you will like to give it to, then be rest assured that you are creating an impact >  more young producers get access to our training program. The bag has an inner pocket with zip, another inner pocket and an outer pocket at the back with zip as well. Yes, a very large laptop can get into the bag. I love the shopper because its a casual colourful piece to spice up any grey-black outfit. Thank you so much for reading this very very long article. Hope to have you subscribe to my weekly blog. Wishing you a lovely Friday and a great weekend rest, Joana
*I really want my German speaking fans to grab as much from this article, thanks to google translate, we have something readable in German.
[:de]
**Hinweis: Der ursprüngliche Artikel wurde in Englisch verfasst und wurde mit Google-Übersetzen und ein bisschen menschliche Hilfe Korrigiert.  Daher kann es im deutschen Artikel Version zu Missverständnissen bzw. Unklarheiten kommen. Bitte beziehen Sie sich auf die Originalversion, indem Sie auf das Menü oben rechts auf dieser Webseite der "englische Flagge" klicken.
Sind uns die gleichen Fähigkeiten und Fertigkeiten zugeteilt worden? Können wir wählen, wo und wann wir geboren werden? Wenn du "Nein" zu diesen beiden Fragen sagen, dann stimm mir bitte zu, dass die Forderung nach gleichen Rechten alles Unsinn ist! Wir sollten um mehr Rechte für eine bestimmte Gruppe von Menschen kämpfen, um sie so schnell wie möglich gleich zu machen.
Um 18 Uhr bin ich zu einer Veranstaltung eingeladen, deren Hauptziel es ist, für gleiche Rechte einzutreten. Ich würde die Veranstaltung nicht erwähnen, da mir bewusst ist, dass die Organisatoren es gut meinen und gut gemeint sind. Aber hier sind meine Gedanken zu den Trends der Gleichberechtigung. Wie kann die Lösung von Fragen zu Gender und Migration durch die Schaffung gleicher Rechte für alle sein? Entschuldige, aber ich denke, das ist ignorant! Wenn du nicht einverstanden sind, lese ich gerne deine Gründe unten im Kommentarbereich oder schick mir eine E-Mail über network@joadre.com.
Lass uns kurz auf Migration eingehen, denn Gender ist für einen anderen Tag. Ich stimme völlig zu, gleiche Rechte an Migranten aus Syrien und Migranten aus Deutschland nach Österreich zu teilen, wenn beide Migranten mit der gleichen Chance geboren wurden, mit denselben Wahlmöglichkeiten aufwuchsen, dieselben ethischen Werte im selben Kulturraum erlernten und auch auswandern aus dem gleichen Grund. Lass uns tiefer gehen. Keine zwei Individuen werden mit derselben Fähigkeit geboren, oder? In der gleichen Klasse haben Sie schnelle Lerner und langsamere Lerner. Verzeih mir, dass ich das Wort "langsamer" in seinem positiven Sinn benutze, oder verwerfen wi res weg. Sagen wir weniger schnellere Lerner. Jetzt gehen diese verschiedenen Schüler mit diesen unterschiedlichen Fähigkeiten in die Welt. Daher ist es sehr schwierig, den Begriff "gleich" zu verwenden, wenn man beide mit unterschiedlichen Fähigkeiten ansprechen.
Lasst uns das Wort Gerechtigkeitsrechte anpassen, was einfach bedeutet, Möglichkeiten zu schaffen, alle gleich zu machen, ihnen NICHT die gleichen Chancen zu geben. Es gibt einen signifikanten Unterschied. Hier ist ein ziemlich tiefes Beispiel in der Geschichte; Nachfahren von Menschen, die Jahrzehnte der Sklaverei erlitten haben, sollten "viel mehr" Möglichkeiten erhalten, um in der Gesellschaft gleich zu werden. Diese Möglichkeiten würden jeden Aspekt des physischen und phyklologischen Traumas behandeln, der ihnen von Generation zu Generation auferlegt wird. Diese Möglichkeiten würden sich auf wirtschaftliche Aspekte wie Entschädigungen wie die Rückgabe von Besitz an lebende Nachkommen beziehen. Wenn all diese Maßnahmen ergriffen wurden, können wir darüber sprechen, dass die Gleichstellung wirksam wird.
Promoting Equity to get Equality!
Als ich nach Österreich kam, hatte ich die Möglichkeit, mein Studium so fortzusetzen, wie jeder junge österreichische Student, der gerade die Sekundarschule abgeschlossen hat. In diesem Bereich könnte man sagen, ich hätte gleiche Rechte. Ich hatte in Österreich aber keine finanzielle Referenzen um einen Studienkredit zu sichern. Ich hatte keine Verwandten und Eltern, die mir finanziell unterstützen werden. Mein Netzwerk wurde auf minus 2 reduziert. Ich konnte die Sprache nicht sprechen. Ja, einige dieser Faktoren würden auch für einige in Österreich geborene Studenten gelten. Eben, daher hat niemand die gleichen Chancen! In den ersten 12 Monaten beschäftigte ich mich mit klassischen Migrations- und Integrationsproblemen, die ich heute eher "Herausforderungen" nenne. Ich habe die ersten 12 Monate damit verbracht, diese Herausforderungen zu meistern, was bedeutet, dass jeder in Österreich geborene Student seine Ausbildung schneller abschließen könnte als ich. Sie könnten anfangen zu arbeiten und bis zu einer guten Rente sparen, was hier eine sehr klare Lebensaufgabe zu sein scheint!
Die meisten syrischen Migranten flohen aus dem Krieg. Viele deutsche Migranten sind Wirtschafts- oder Sozialmigranten, genau wie viele nigerianische Migranten auch.  Pass aus,  jetzt wird es heikel! Es ist fast unmöglich, einen nigerianischen Wirtschaftsmigranten zu haben, weil er aus dem gleichen Grund wie der deutsche Migrant kein Visum bekommen würde. Sie sehen, die Grundlage für globale Interaktion ist der Status quo "Ungleichheit". Wenn wir mehr nach Gerechtigkeitsrechte streben, könnten wir endlich gleiche Rechte erlangen. Der Kampf um Gerechtigkeit würde bedeuten, dass einige Menschen zugeben müssten, dass sie privilegiert sind. Es würde bedeuten, dass einige Gruppen zugeben müssten, dass ihr Vermögen auf den Nachteilen anderer basiert. Aber lassen wir es mal heute so stehen! Schauen wir an, was ich diese Woche aus unserer nachhaltigen Mode und Accessoires online ausgewählt habe. Vergiss trotzdem nicht, deine Kommentare und Gedanken, Fragen und meinen Artikel mir zu teilen.
Meine Auswahl der Wochen! Handgemachter Batik Shopper mit "Crushed" blauen Mustern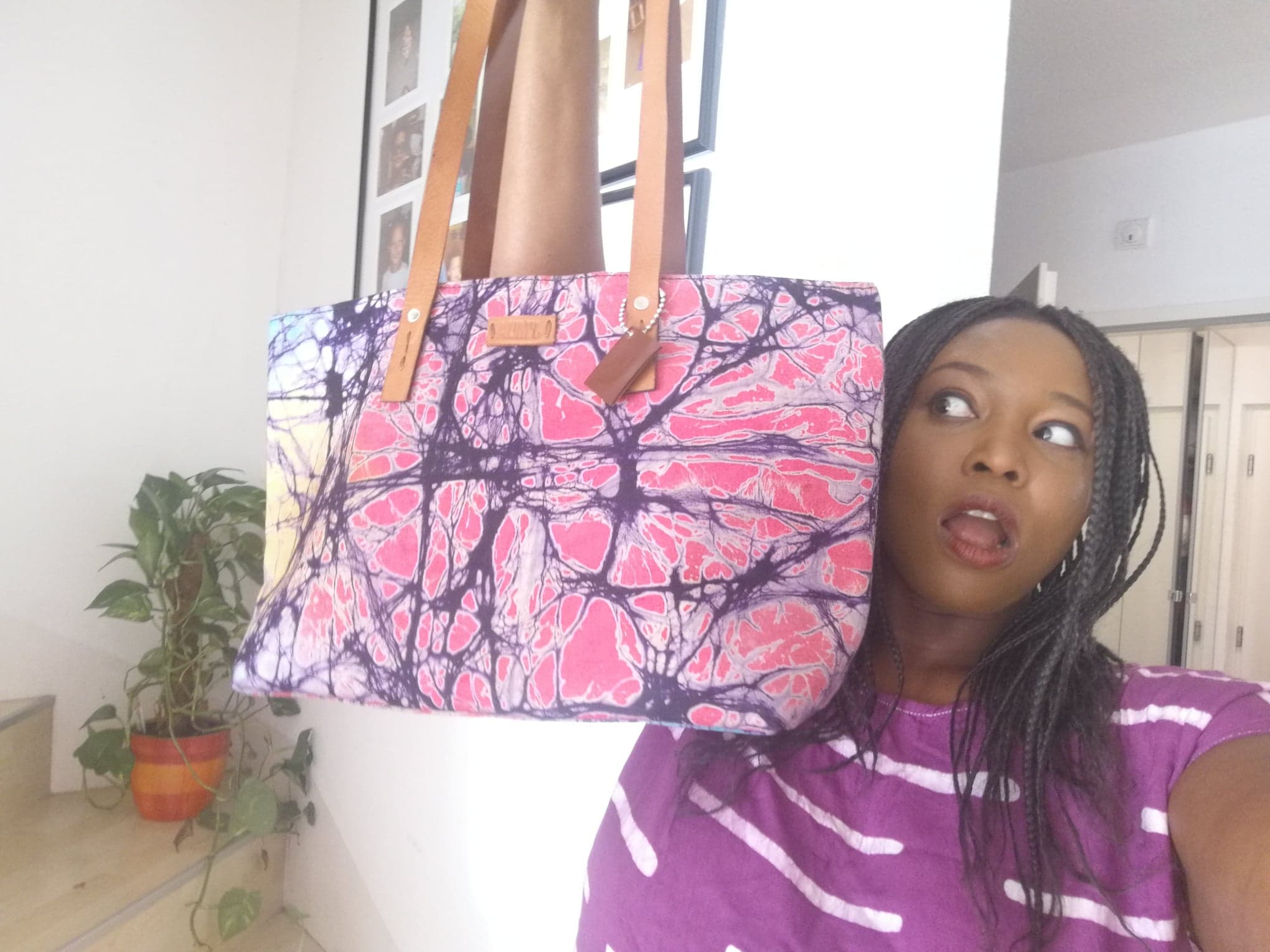 Ich kann nicht lügen. Diese Farben is so schön und intensiv sind. Ich wache praktisch jeden Morgen in meinem Atelier auf, um die Farben dieser Tasche zu sehen. Es schärft meine Stimmung und ich halte es direkt vor meinem Arbeitstisch für mehr Inspiration. Es ist eine klassische Einkaufstasche, die wir mit Ayoola von Jmuacouture entworfen haben. Hier ein kleiner Einblick in die Entwicklung dieser Tasche. Wir begannen unser Trainingsprogramm über 3 Jahre und entschieden uns, dass jeder Schneider oder Produzent, der seinen eigenen Design- und Produktionsplan entwickeln könnte, Produkte unter seinem eigenen Markennamen kreieren darf.
Ayoola, ist einer dieser Produzenten, die mit Begeisterung dieses Taschen-Design umgesetzt hat. Momentan haben wir nur 3 Stück auf Lager, aber mehr wird gerade produziert. Wenn du diese Tasche willst oder jemanden kennst, dem du diesen gerne geben möchten, dann sei versichert, dass du eine Wirkung erzielst > Mehr junge Produzenten erhalten Zugang zu unserem Trainingsprogramm. Die Tasche hat eine Innentasche mit Reißverschluss, eine weitere Innentasche und eine Außentasche auf der Rückseite mit Reißverschluss. Ja, ein sehr großer Laptop passt auch in die Tasche rein. Ich liebe den Shopper, weil es ein lässiges, farbenfrohes Stück ist, um jedes grau-schwarze Outfit aufzupeppen. Vielen Dank für das Lesen dieses sehr langen Artikels. Ich hoffe, Sie haben meinen wöchentlichen Blog abonniert. Ich wünsche dir einen schönen Freitag und eine erholsame Wochenende, Joana
[:]