#1 Girl, stop apologising – Rachel Hollis.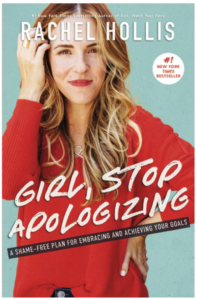 "Girl, stop apologising" remains a must-read for any female entrepreneur who needs to kick herself in the butt to move. In this book, Rachel discusses her anxieties, triumphs and setbacks and how she continually drove herself to achieve her goals. Despite being a mother of 4 kids, Rachel rocks through the hectic but finds the time to care for herself. Suppose you feel that you have to constantly apologise for who you are, that your life is passing you by, and are frightened about others' judgement. In that case, this is the book for you to read right now.
Page number: 240
Publishing company: Hollis, Rachel
Date: 12th March 2019
ISBN: 1400209609
---
#2 The Psychology of Selling – Brian Tracy
Brian Tracy's book The Psychology of Selling gives essential knowledge and methods for improving sales by focusing on one thing: the individual. Entrepreneurs sometimes disregard the principles of selling in favour of attaining results, yet understanding the fundamentals is necessary before achieving outcomes. Brian Tracy goes over each of the significant points in great depth.
Page number: 240
Publishing company: HarperCollins Leadership
Date: 18th July 2006
ISBN: 0785288066
---
#3 Start with Why – Simon Sinek
The book by Simon Sinek is a fantastic piece of business strategy, especially for those looking to develop a long-term firm built on greater meaning and purpose. He tells you how to create your company's "WHY."? He delves into many of Apple's ideologies and Southwest Airlines' best practices approach. He also looks into techniques that failed. The section where he debunks the entire marketing industry's deception strategy is fantastic. Simon conveys the scenario so well that I got the impression that he listened to my million thoughts and then wrote a romantic business essay about it. This was the point at which I accepted my profound desire to start Joadre.
Page number: 256
Publishing company: Portfolio
Date: 27th December 2011
ISBN: 9781591846444
Joadre's "WHY" stems from observing how millions of Africans struggle daily, with some becoming victims of exploitation and human trafficking in Europe due to financial hardship. They are from a continent where there is abundance. Our focus is to assist African entrepreneurs in establishing long-term revenue streams so that they may live the life they desire.
Connect with us, and get our app.
We created our one-stop digital incubator app to bridge knowledge and service discrepancies for African students and Savvy entrepreneurs looking to start a business. Get the app (Android version) here. For IOS users, a web app is available here at https://tribe.joadre.com. Sign up for our newsletter here to get consistent resources via email. If you want to contact us, use our contact form or consult us through the app. 
Thank you for reading to the end.
Cheers